We Welcome You ! ! !
"The Drifters were the all time greatest Atlantic recording group" said Ahmet Ertegun, founder of Atlantic Recording Company and the esteemed Rock and Roll Hall of Fame. "The best act of its genre on the music scene today" has been used often to describe Bill Pinkney's legacy group.
In 1988 the Rock Hall inducted originals Bill Pinkney, Clyde McPhatter, and Gerhart Thrasher, along with subsequent members Ben E. King, Charlie Thomas, Rudy Lewis, and Johnny Moore - the seven significant contributors to The Drifters' legacy. King and Thomas remain alive today.
From this page, you can access information about The Drifters, link to classic original recording Artists and many music related sites, and hear / purchase music online.

Drift through the pages of this site, enjoy your visit, and return soon for exciting updates. Feel free to provide a link from your page to ours. Bookmark us now! We hope you will tell your friends about our site, and we surely appreciate your visit. Please "Stay tuned!"


*NOTICE - Limited Use Conditions - The photographs and information on this site are intended to be used only for the authorized promotion of this Artist. Unauthorized use constitutes infringement in violation Federal Law.
These are the faces you have come to know over the years
Chuck, Russell, Richard, and Vernon.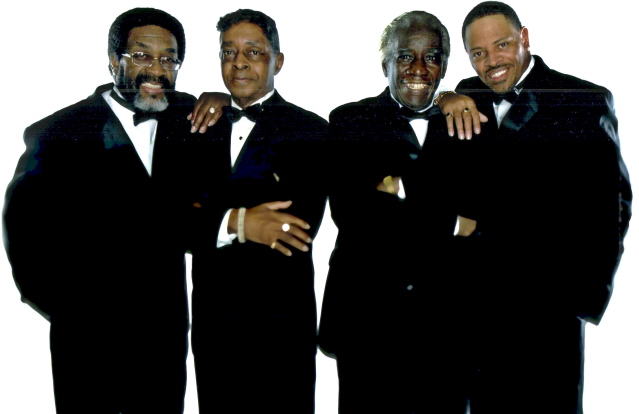 Along with Brian and Joe, they continue the great Bill Pinkney Legacy with dignity, pride, and respect. For a classic Legendary Drifters show that still blends nostalgic magic with on-stage excitement and / or a new 21st century touch, contact us soon to discuss promotional information and logistics.
**** Kindly note that this is the only Drifters group engaging via a registered Federal Service Mark from the United States Patent and Trademark Office and complying with all State's Truth in Music Laws. Beware of imposters, avoid the misrepresentations, and, above all, accept no imitations. *********
We look forward to working with you,
and hopefully
We'll see you soon ! ! !
Bill Pinkney's Signature Song was The Drifters' 1954 recording
of the Irving Berlin classic "White Christmas". Hear it now!!!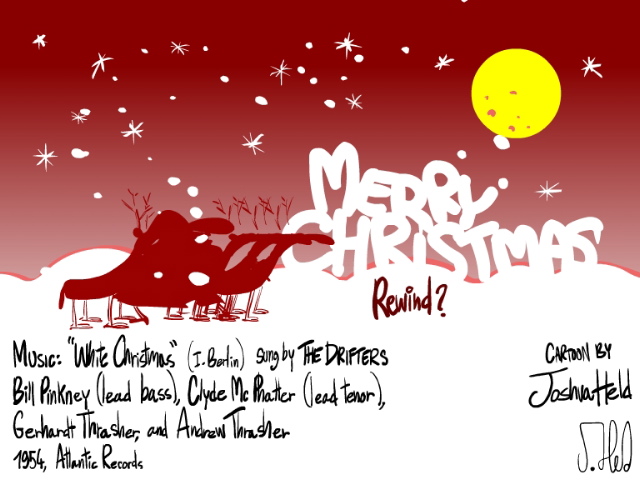 Santa/Reindeer Animation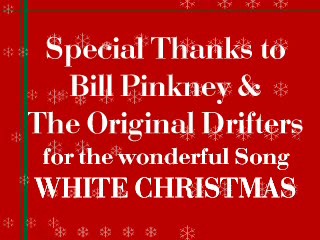 Dancing Santas (short )
________________________________________________________________________________________________________
Music Legends Honor Original Drifters Manager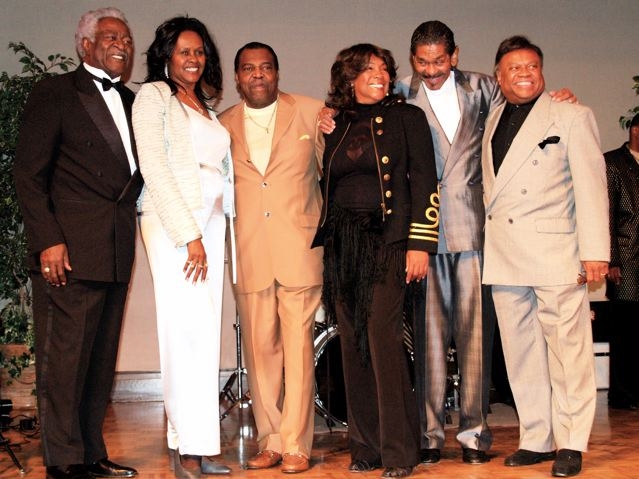 Bill Pinkney (Drifters), Maxine Porter-Pinkney, Pete Moore (Miracles)
Mary Wilson (Supremes), Carl Gardner, Sr. (Coasters), Sonny Turner (Platters)
Bill hosted Maxine's Birthday Eleganza in this 2006 photograph taken in Las Vegas, NV.
_____________________________________________________________________________________________________________________
Bill Pinkney's Original Drifters® a/k/a The Original Drifters® All rights reserved.
Exclusive Management - Superstars Unlimited LLC P. O. Box 371371 Las Vegas, NV 89137 USA
Telephone 1-702-642-2300 Facsimile 1-702-642-3221 office@OriginalDrifters.com